Standard/Basic
Our low cost options. You receive the payments after we collect each instalment from your customer.
Charges from 5%
Guarantee
We guarantee that you will receive each instalment on time every month.
Charges 10%
Full Finance
You get paid upfront by us once the customer has received their goods/services.
Charges from 10% - 15%
Why should my customers PayItMonthly?
Offer your customers 0% finance over a maximum of 12 months using our simple online system.

Increase your sales
Give your customer the option to spread the cost and allow them to 
increase their total spend with you
. This is done by dividing the cost into more affordable monthly instalments.

Increase customer satisfaction
Customers love being able to spread the cost and make their purchase more affordable.

Stay Ahead
Stay ahead of your competition by giving your customers the option of spreading the cost.

Watch our quick video on how to get started with PayItMonthly. It also shows how you create an agreement with your customer and setup their Direct Debit.
If you have any questions on how the sytem works or you want a demo please let us know.
Why should I use you?
Your customer simply signs our online agreement and we take care of the rest.
Trying to offer finance to your customers can be difficult and confusing from FCA compliance to meeting different finance companies' requirements. We engineered PayItMonthly so that we can offer your customers simple finance.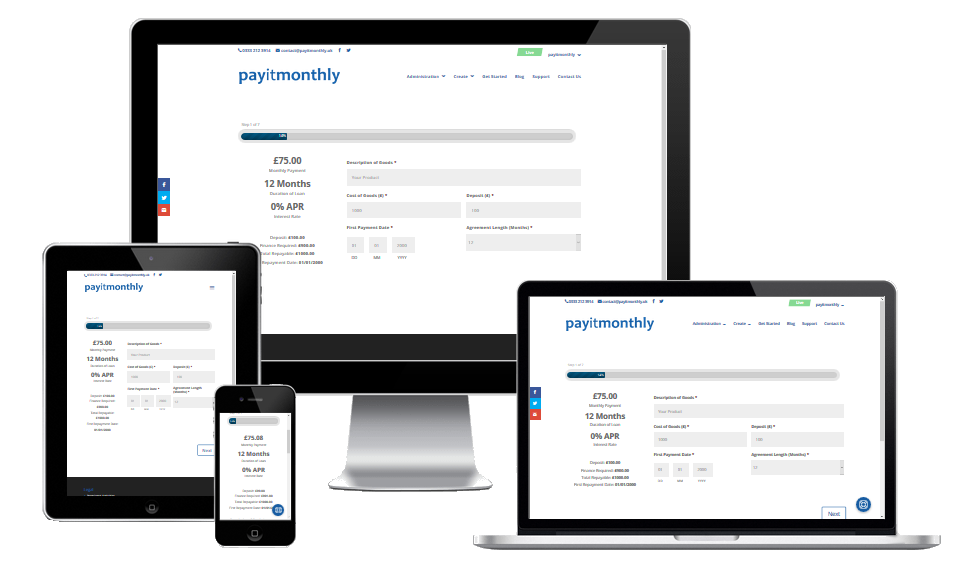 Omni-Channel
Your customers can sign agreements at home, in-store or on the go.
Quick and Easy
Simple online agreements that can be signed in less than 3 minutes.
Paperless
Customers sign their agreement online which they receive along with payment notifications via email.
Powerful Reporting
You can view all payments, payment plans and customer interactions in real-time.
If you need more information please contact us via this form, contact@payitmonthly.uk or on 0333 212 3914.