Customer Survey: Why customers choose finance 2016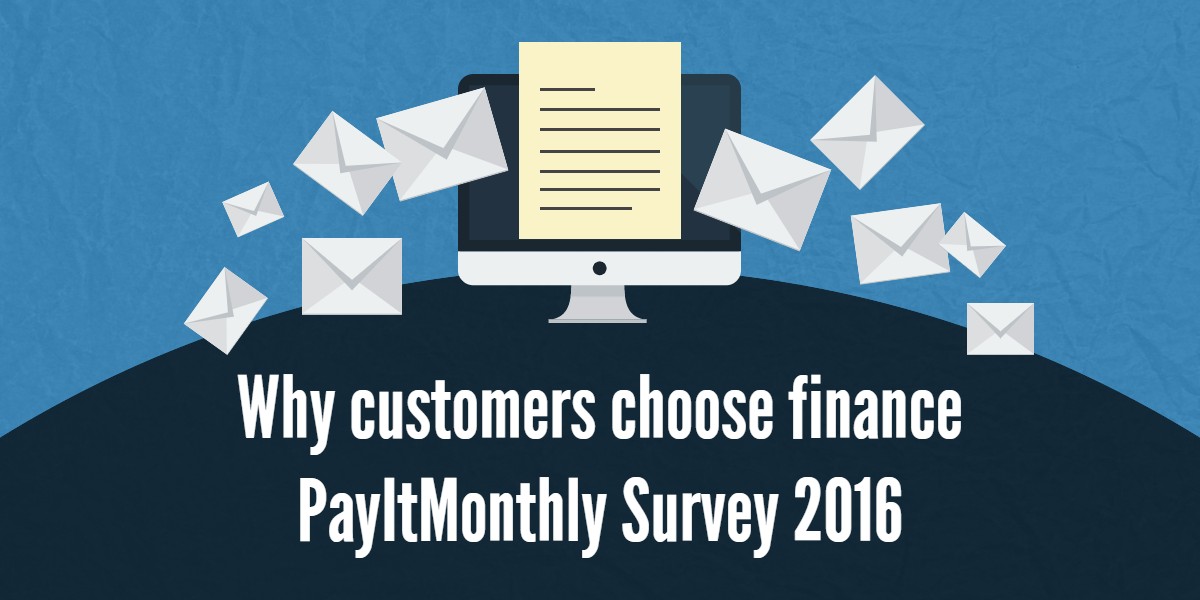 Over the course of July and August 2016, we conducted a survey to find out why customers choose finance and what their opinions were about retailers offering finance. The results are in!
How the customers felt that finance affected their decision to purchase:
An astounding 80% of customers answered that they would have spent less on their purchase had they not been given the option of finance. Therefore, retailers not offering this to customers are missing out on a potential increase in value of sales made.
When asked why the customer chose to pay for the product using finance, again, 80% of them responded stating that they would not have been able to afford the purchase as a one off payment. 10% answered that using finance was their preferred method of payment. 10% said that they could have paid in full, however, this would have left them struggling financially for the rest of the month.
This tells us that the majority of the respondents could not have made the purchase without being given the option of finance. 10% choose to use finance as their preferred payment method; if the option is taken away, they may decide not to make the purchase. Customers like to be given options to fit their own circumstances and preferences. The remaining 10% who stated that they could have paid in full but would have struggled for the remainder of the month may also have decided not to purchase without the option of finance. When deciding whether they can afford a purchase, a person will consider whether they can do so without impacting their finances too much for other expenses. If the answer is no and they have no alternative payment option, this can result in losing the sale.
When asked how important it is for a company to offer finance, 60% of customers said that it was very important, they wouldn't purchase expensive or luxury items without it. 40% responded that it is quite important as it is nice to have the option and can help make their decision when considering a purchase. Not one respondent answered that it is not important and it wouldn't affect their decision when making a purchase. On asking for additional comments in our survey:
The reason I chose finance was because of the sheer cost of the photos themselves. It allowed us to have something we really wanted doing but not having a big lump sum to pay in 1 hit. Plus I was lured there by the misses and she forgot to inform me of the prices!
Increased spend as a result of finance being available
Wouldn't have been able to afford the purchase in one payment
Having a finance option is not important
Many retailers think that their products are not expensive enough to warrant offering finance to customers. Some just offer the option of finance on products priced above a certain level. This could prove to be a further cause in losing sales. Our survey reported that the majority of respondents purchased products varied between £100 - £1000. The highest price bracket came in at just 10% higher than the lower two brackets. A decision to purchase via finance will not just be based on the price. It will vary from person to person, taking into account their financial circumstances and their personal preference.
Whether a person is employed can often be a factor for a company offering finance to a customer. 30%, almost a third, of the customers that responded to our survey, were not employed when they took out the finance agreement. If they had been ruled out based on their employment status, the companies they purchased with would have turned away a lot of business. The market can tend to exclude people who claim benefits automatically. However, a lot of people claiming benefits actually have a fairly sizeable income and are in just a good a position to make monthly repayments as someone that is employed. A personal assessment based on the customer's circumstances and income and expenditure can be a much more accurate way of determining whether a company wants to offer them finance; and can greatly increase sales.
30% of our customers in this survey had never used, nor were currently using, finance for any other purchases. This could be due to it not being available to them, whether it is because of their employment status or other criteria they failed to meet. Our clients were able to increase their sales by offering customers our finance option where they would not have been able to previously.
When looking at customers age, there was a range across all the age brackets. Whilst 18-25 and 56+ both came in at 10%, it is worth remembering that they are still potential buyers. The highest range was 26-35 at 40%. This suggests that people in this age range are more likely to use the finance option. However, this can vary from business to business and your target market may differ, so it is worth looking at your specific customer base.
Price of purchase under £500
Responses regarding PayItMonthly:
In response to how easy using PayItMonthly was when applying for finance with the retailer, 100% of respondents agreed that it was very easy and straightforward and would use it again.
The process was quick and easy and we left feeling at ease.
40% of customers had contact with staff at PayItMonthly. Please see the figures below as to how they rated our service:
Would use PayItMonthly again
Agreed that staff were very helpful
Agreed that the staff were friendly
Agreed that staff were very understanding of customers circumstances
Agreed that staff were very personable
Strongly agreed that the staff were very accommodating to my needs
The results show that customers either agreed or strongly agreed that our staff are very helpful, very friendly, very polite and understanding of their circumstances.
50% strongly agreed that the staff were very personable, 25% agreed, and 25% were neutral.
50% strongly agreed that the staff were very accommodating to their needs and 50% neutral.
Overall, 100% of customers found our system easy to use and would use finance through us again. They also rated our staff incredibly highly, with not one negative response to how they found them to deal with.
60% of customers didn't have any interaction with us as they had no need to make any changes or enquiries, which underlines how easy and straightforward the process is for them.
If you have any questions regarding this survey and how it applies to your business, please contact us.