Subscription Payments – Spreading The Cost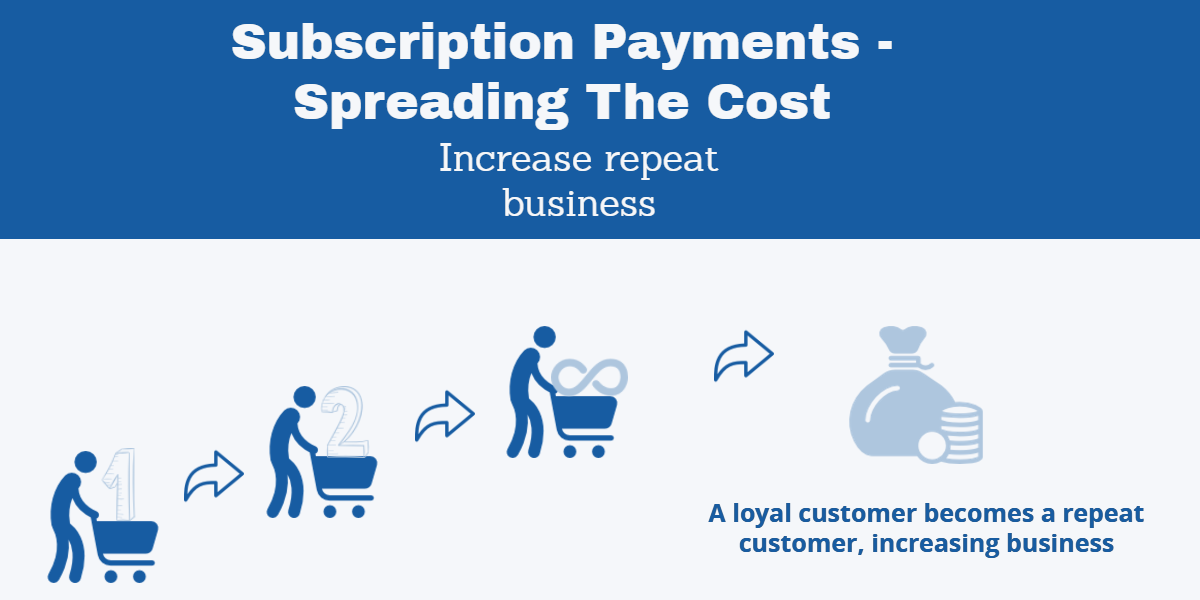 Giving your customers the option of spreading the cost for your service could increase sales and customer loyalty. People generally do not like being told that they have to pay a specific way. Most companies now offer a range of payment methods for customers to satisfy the majority of the market.

Why should this be any different for people who want to have their hair done regularly or keep regular cosmetic appointments? It doesn't need to be.
A customer who comes back to a business on a regular basis could become even more regular and increase their purchases if given the option to spread the cost.

Typically, women visit a hair salon anywhere between 4 weeks and 4 months to get a cut and/or colour. Many women will leave the visit longer than they ideally would due to the cost. The same is true of people visiting cosmetic clinics. Offering the customer the chance to pay monthly can see an increase in the number of visits in a year.

Not only can the number of visits increase, they may be more inclined to start including more treatments or products in their purchase. Monthly instalments are easier to increase by a smaller amount as opposed to adding a larger amount to a one off payment. For example, offering a customer a conditioner for £40 when they are paying outright for their hair cut and colour will be a more challenging sale than telling them they can add it to their monthly instalments for just an extra £3.33 per month. And once they have had the extra purchase once, they are much more likely to continue to buy it.


Increasing Customer Loyalty:
Many customers will continue to use a business that they know, like and trust. That isn't to say that they will not look elsewhere if there are attractive payment options available.
As well as giving the customer options, it can increase how much the customer enjoys the visit. Not worrying about the payment will leave them more relaxed and looking forward to each visit more.


Being able to increase the value of sales is not just beneficial for you, but also for the customer. By spreading the cost and being able to afford to increase their overall purchase price, it will give the customer the opportunity to treat themselves to something extra where they may not have been able to previously.
By providing these options, you will help to ensure your customers stay loyal for longer.
Benefits of using PayItMonthly:
There is no interest charge for the customer – a huge selling point when offering them finance.

PayItMonthly is an entirely online system. It is straightforward and easy to use. This benefits both you and the customer.
The customer can go back and view their Agreement online once it has been set up. So if they forget their payment date or amount, it is all there for them to see when they need to.


Credit checks are optional for each retailer. This means that you can offer finance to more people than ever before. If you decide that you don't want to credit check your customers, there is a short affordability section within the application, giving you an indication as to whether the customer will be able to afford the monthly payments.
The system forms a legally binding contract that the customer signs electronically. The entire process typically takes 5 minutes and puts you in control of who you will offer the product to.


Should a payment fail for any reason, we have highly trained staff to deal with this. We will contact the customer via telephone, text, email and/or letter to resolve the situation. Our team is friendly and highly approachable, working with customers should they have unforeseen difficulties.
We know that you want a great, long lasting relationship with your customers and we will help to strengthen that with our experience and approach.