Training Providers – Increase Business By Offering Finance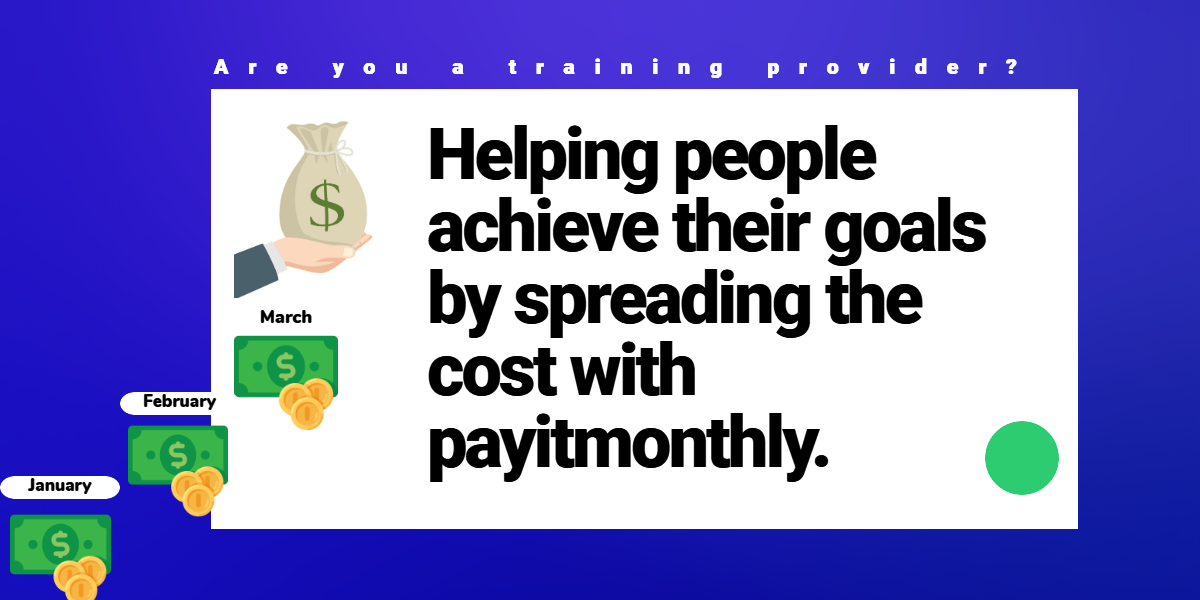 Helping people achieve their goals by spreading the cost.
At PayItMonthly, we work alongside many training providers enabling them to offer finance to their customers. We understand that it can be difficult for people to pay for a training course in one big payment. Our aim is to help clients offer a finance option to their customers, so they can receive the relevant training to help them – and maybe even achieve life goals!


Are you a training provider?
If you are a training provider looking for finance options for your customers, you've come to the right place. If your customers are keen to take up training with you but they are unable to pay for it upfront, PayItMonthly are here to help you, meaning your customers can spread the cost to make it more affordable for them, and you don't lose business. Having a finance option has improved many businesses by offering their customers the option of monthly instalments; so, whatever sort of training you provide, we want to help you.
.

Benefits for your customers:
They can complete their desired training with no worry about having to pay the full cost upfront.
They can spread the cost of their training over up to 12 months.
Easy to get their direct debit set up – choose the best payment date to fit them.
Friendly knowledgeable staff to help with any queries.
Interest Free finance.
They will feel more relaxed knowing that it is now something they can afford and pay off monthly.
Easy online system.
If they forget their payment amount or date, they can call us or check their agreement online.
The customer can purchase something that they might not have been able to afford without the finance option.
Could help to improve their credit rating.

Benefits for your business:
Giving your customers the choice to spread the cost of your training service could help increase your sales and cater to as many customers as possible.
No interest charge for your customer – offering finance will seem more appealing to them.
Easy online system.
Credit Checking is included and can indicate whether the customer will be a reliable payer.
Once you have signed up the customer, we deal with any queries they have, less work for you!
We will always work with the customers to get the best outcome for both them and your business
Helps increase customer loyalty, repeat business and positive word of mouth.
If you are a small training provider and offer finance, it will show stability and customers will feel more inclined to trust your business.


Survey Feedback
A recent survey conducted by PayItMonthly showed that 89% of our customers said they wouldn't have been able to pay for their training without the finance option available. 
A massive 100% of customers said it was helpful to spread the cost over monthly instalments.
52% of customers who completed their training said they got their desired outcome, however, 37% of the customers we asked were still in the process of completing their training, so we anticipate the final figure for this will be above 80%.
Another full house - 100% of customers said they found singing up with PayItMonthly and setting up their Direct Debit was easy.
Wouldn't have been able to pay without finance
Said it was helpful being able to spread the cost
Have already completed and got desired outcome from training
Found signing up with PayItMonthly easy
Some examples of the feedback given in the survey:
"Would you have been able to take up the course if there was no finance option?"
"No I wouldn't have been able to afford it, so very grateful for PayItMonthly."
"Was it helpful to be able to spread the payments over a plan of up to 12 months?"
"Yes, it was very helpful to spread the cost as I couldn't afford the whole amount straight away."
"Did you get your desired outcome from your training?"
"I did, I now run my own business from home. I gave up my retail job and now have more time, freedom and job satisfaction."
"Did you find signing up with PayItMonthly and setting up your Direct Debit easy?"
"Yes, it was very straightforward and easy, even for me who is not very IT savvy."
.


So, whatever sort of training you provide; by offering a finance option to your customers, it will not only improve your business, but help people achieve their goals with an easy method of paying through PayItMonthly!
You can visit our website www.payitmonthly.uk or contact us for more information on 0333 212 3914 or on support@payitmonthly.uk.