8 Reasons to PayItMonthly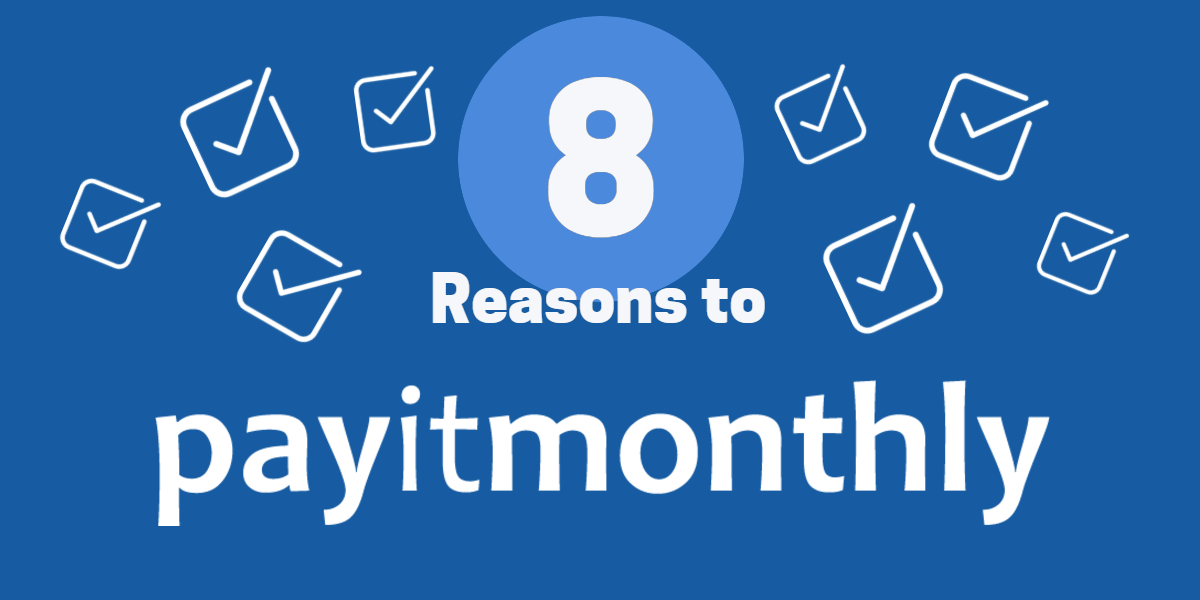 Okay, so we have explained that offering finance to customers increases sales. We have shown you the results of our survey, giving you a look into how customers feel about using finance. But why choose to use PayItMonthly over any other company that can help you offer finance?
Here are 8 reasons to PayItMonthly:

There is no need for FCA authorisation. Why is this a benefit? This takes away the need for you to go through all the hassle and cost of applying for a licence; as well as the ongoing reports that you would need to submit to the FCA. As long as you offer interest free instalments over no longer than 12 months and don't charge the customer more for using finance, you are good to go! Because you don't have to wait for FCA authorisation you can start offering your customers finance typically within 1 working day of signing up with us. It's that simple.
You are in charge of who you accept. Where other companies will perform credit checks and reject a number of potential customers based on this; we let you determine who you want to offer finance to. Our system includes an optional affordability statement which will give you an idea of whether the customer can afford the repayments. A customer that doesn't have a perfect credit history can be as good, or even better, than a person that has the perfect credit history.


Our system. Our system is simple and easy to use. Setting yourself up as a client and setting your customers up are both straightforward and quick processes. Customers don't have to wait for any time to get a decision as you are the one making it and the application takes no more than 5 – 10 minutes to go through. This is always a good selling point with customers!
The system also allows you to view all your accounts and see how they are performing as well as all notes made by us on each account.
Legally binding contract. Our system may be simple to use, but it's still clever! When you sign a customer up, it creates a legally binding contract between you and the customer. So should the worst happen and the customer stops paying and the account can't be brought up to date, you have the option to take legal action should you wish to. Can we help with that? Of course we can! We would do all we could to avoid any accounts getting to this stage, but should you require it, we are able to provide the service for you.


We manage the payments. So, once you have signed the customer up, you can just sit back and relax whilst we take care of the rest! We manage your accounts and remit payments to you each month as the payments are made. If an account should decline, we will contact the customer straight away to bring the account back up to date. We contact customers by telephone, sms, email and letter. Our team is trained in both customer service and collections, giving you the best of both worlds.

We know how important your customers are to you. You want to keep your customers loyal and we recognise that. You also want to make sure that you receive your payments. By having a team that are trained in both collections and customer service, we can get the best result for you without alienating your customers. Whilst we may not be regulated by the FCA, we still believe in their principles. We take pride in treating customers fairly and taking into account each individuals circumstances.

No hidden charges. This goes for you and the customer. Whichever product you choose with us, the cost is clearly stated on the website and there are no hidden charges. The customer is signing up for an interest free credit agreement and there are no further charges to them. It really is what you see is what you get!


No trading history or minimum turnover. With most companies you will be required to have a certain number of years trading and a minimum turnover requirement to be able to use them. Not with us. We have no requirements with either of these. When you sign up you simply need to enter your company details so that we can verify your business for AML purposes. That's it.
Start Using PayItMonthly Today