The Nightmare Before Christmas: Family Can't Spread the Cost of Their Photos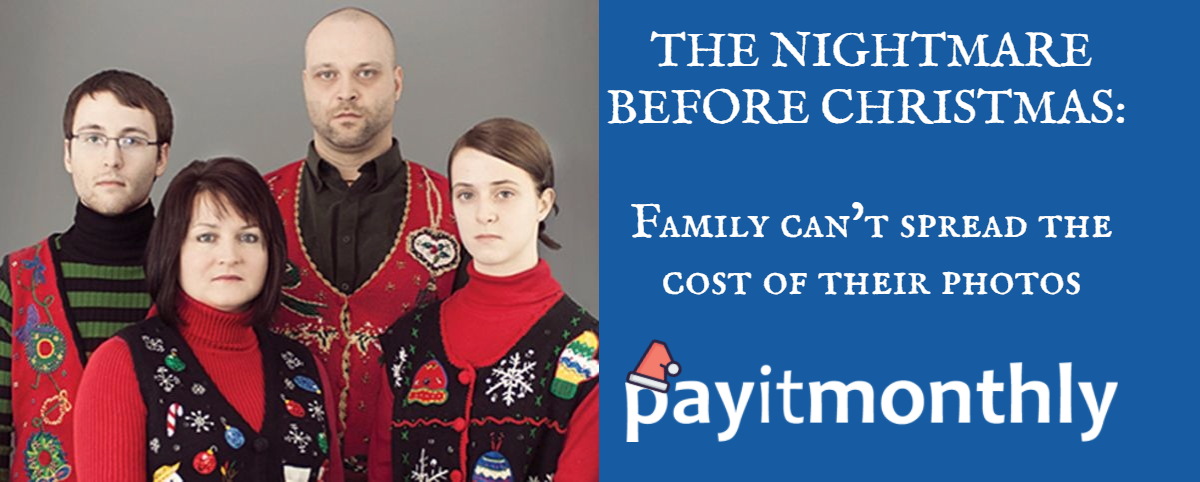 It is often considered bad form to discuss Christmas before December, however, certain preparation is needed to make the time of year the most lucrative it can be.

The coming weeks will be the time that consumers are thinking about what personal, unique gifts they can buy for their loved ones. What is more unique and personal than professional images that they can treasure forever? From families to couples to babies to pets, the market can appeal to all. However, if you are not offering finance, this could be a snag. This time of year tends to be the most expensive for most people and consumers will often look to purchase using finance, particularly with more expensive items.

I personally visited a photography studio with my sister. The images were beautiful and we wanted them all (even my sister, who normally hates photos of herself)! There was so much on offer – discs, albums, canvasses – we wanted all of it. However, the studio we visited didn't offer finance. As beautiful as the images were and no doubt worth the price, we just couldn't afford to pay out the amount in one go. Rather than leaving with one of the packages on offer, we left with just one image of the two of us. I know that, if we ever decide to have another photo shoot, we will be doing our research to make sure that the next studio we visit offers finance so that we are able to select the package we really want.

By offering finance to customers, you can increase the value of your sales and the customer can get everything they want, avoiding disappointment. It's a win-win!
Amongst the many reasons to use PayItMonthly, there are two big reasons why signing up with PayItMonthly will benefit you now.

1: Because there is no need for FCA Authorisation you can sign up and start offering your customers finance almost immediately. You can sign up online and all we require is a few details about your company to verify for AML purposes. This is typically done within 1 working day. So where you might have been thinking it's too late to be able to offer your customers finance in time for Christmas – it's not!
2: We have so much experience offering finance in the photography industry. Whilst PayItMonthly has grown and now deals with many different industries, our roots are from the photography industry. Our Directors have worked for some of our clients in the photography industry for almost ten years. Therefore, we have good knowledge of what you do and how to address queries from customers. Because of our experience in dealing with customers in your industry, there is minimal need for us to refer queries to you, leaving you free to drive your business forward.

Start Using PayItMonthly Today