Which PayItMonthly product is right for you?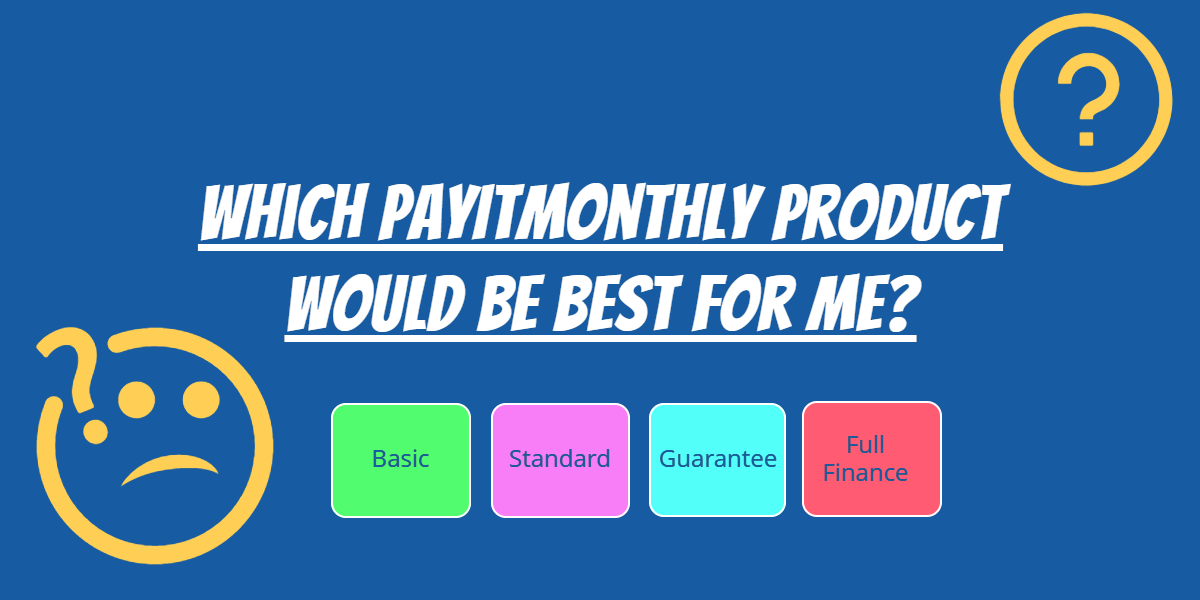 Here at PayItMonthly we have strived to create a range of different products to suit the differing needs of your businesses. We understand that all businesses are different with varying requirements. We have created four excellent products to suit whatever is best for you.
In this blog, we take a quick look at the different products to see which one would be best for your business.


Full Finance
The most popular of all our options for one simple reason, the Full Finance product allows you to receive your payment in full at the start of the agreement. There is no need to wait for payments to come through to you month by month, with the Full Finance option once you have completed your service or provided all goods to the customer then all you need to do is sit back and await your payment.
The Full Finance product is subject to the same monthly fee of £10.00 per month as Standard and Guarantee. As with the other options the Full Finance product is subject to a credit charge, however instead of being a flat percentage this is determined by the length of the customers agreement; 10% for any agreement up to 6 months long, 13% for any agreement 7 – 10 months long and 15% for any agreement 11 – 12 months long.
Whilst Full Finance is product with the highest charges the key benefit is how quickly you receive the full payment, this can be invaluable in terms of cash flow and can make a real difference to the growth and continued success of a business.
Guarantee

The best thing about the Guarantee product is exactly what you would expect from the name - you are Guaranteed your payment each month whether your customer pays us or not; whereas with the Basic or Standard products if a customer does not make their payment then you will not receive this.
The Guarantee product is also subject to the monthly fee of £10.00 per month and does have a higher credit charge of 10% but for this increased cost you have the added security of knowing that your payment will definitely reach you whether your customer pays their instalment on time or not.
That added layer of security makes the Guarantee product a great option especially if you are providing a service that may be over a prolonged period. With the Guarantee option you may be able to receive payments while you complete your work rather than having to wait until the work is completed but don't worry we'll confirm the payment schedule with you while your account is being verified so you won't be left in the dark about when you're being paid.


Standard
The Standard product is what we describe as the best value product for most users. If you are planning to put through quite a few agreements each month this might be the product to best suit your needs.
Whilst the Standard product does carry a monthly fee of £10.00 per month there is no new agreement fee, so for that £10.00 per month you can set up as many new agreements as you would like. The Standard product also carries a lower credit charge of 5% for each payment collected.
Payments are paid across to you each month as the customers pay their instalments.
Although the Standard product includes that monthly fee the lower credit charge and the fact there is no fee for new agreements make it perfect for you if you are looking to get the best return on your investment.  The reason this is the best return is because it carries the lowest credit charge at 5% and can include credit checking. However, if you need the security of the payment or money upfront, other products will be more suitable.
Basic
Our Basic option is a low-cost option that is ideal for companies who don't intend to provide finance to a lot of customers. If you are looking to finance just a few customers a month then this may be the ideal package for you.
The Basic product has no monthly fee so you would not need to worry about putting through a certain number of customers per month to make sure you were getting your money's worth.
The charges for the basic product are based on the individual agreements themselves rather then a monthly fee. There is a £4.00 charge for each new agreement created and then an 8% credit charge for each payment collected.
Payments are paid across to you each month as the customers pay their instalments.
The Basic product is great for those low volume users but might not be ideal if you are planning to put through quite a few customers per month.


Advance (Secret Menu Item)
We have a product which we don't advertise on the website called the Advance product. We can offer this to certain clients if they have customers with lower credit scores but still need a proportion of money paid upfront.
Credit checking is optional on this product and you can receive a substantial percentage of the payment upfront and the remainder as it is paid to us.
To find out more, please contact us on 0333 212 3914.
Note
Credit checking is optional on the basic and standard products, however, it is mandatory for the guarantee and full finance options.


Conclusion
All 4 products have a variety of benefits and will suit different users, whilst the lower charges of the standard and basic products are enticing the security of knowing you will receive your payment regardless of if the customer pays on the Guarantee or Full Finance products is equally so.
We hope that this quick summary of each product has helped you to decide which would be best suited to your business, if you would like further information on each product this can be found on the pricing page of our website here;  https://payitmonthly.uk/pricing/
Alternatively if you would like to discuss which package would be best suited to your business please phone us directly on 0333 212 3914 or email support@payitmonthly.uk and one of our trained advisors will be happy to discuss the products with you.